Tuesday, March 6th, 2012
by Nora Hess
When I was 16 years old, I spent a few weeks at Cornell University attending a summer program for high school students. For the first time in my life, I left the safe, comforting environment of my home to spend time with people who were very different from me. The culture shock was enormous. As a lifelong member of The Church of Jesus Christ of Latter-day Saints, sometimes called the "Mormon Church" by the media, I had grown up among people who believed as I did, who worshipped God, and who strove daily to keep His commandments. By contrast, the other young people with me at Cornell were largely agnostic: they did not pray, believe in Jesus Christ, or live the standards that I had been taught. Soon I realized that the way I saw the world was not the only way. I came face to face with the question: Why did I believe?
Faith: The Essential Questions 
There comes a time in each person's life when certain questions loom large: What is the purpose of life? Is there a God, and if so, does He care about me? How can I find happiness? How can I know what is true?
I returned home from Ithaca deeply worried about those essential questions. Both the logic and the emotions upon which I had previously based my faith had been called into question by my peers. Was there a God? How could I know? I pondered for weeks as I looked at the world with new eyes, comparing different world views. What was true?
The Beginning of Faith: A Desire to Believe
The Book of Mormon, Another Testament of Jesus Christ, is the religious history of an ancient people who lived in the Americas long ago. Alma, a prophet whose teachings are recorded in The Book of Mormon, once taught a group of people about how to develop faith. The people he taught had been deeply humbled, as I had been, and were searching for answers. Alma counseled them:
Now, as I said concerning faith—that it was not a perfect knowledge—even so it is with my words. Ye cannot know of their surety at first, unto perfection, any more than faith is a perfect knowledge.

But behold, if ye will awake and arouse your faculties, even to an experiment upon my words, and exercise a particle of faith, yea, even if ye can no more than a desire to believe, let this desire work in you, even until ye believe in a manner that ye can give place for a portion of my words (Alma 32:26-27).
Like Alma's people, I did not have a perfect knowledge, or even much knowledge at all. But I knew one thing: I desired to believe. I desired to believe because when I looked at what my life would be like if I abandoned my faith and its teachings compared to the eternal life offered to me by Jesus Christ, there was no comparison. Even at my young age, I could see that a life of faith is full of unmatched goodness, richness of experience, and joy. I also could see that it was no more logical to disbelieve in God than to believe in Him; each choice was a leap of faith. So I chose to "give place for a portion" of the word, and see where it led.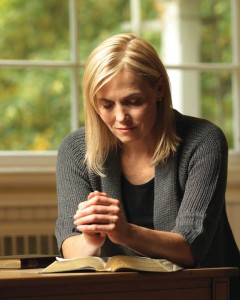 Faith as a Seed: Enlarge My Soul, Enlighten My Understanding
Once Alma had encouraged the people to accept the possibility of belief in Jesus Christ, he taught them how to proceed:
Now, we will compare the word unto a seed. Now, if ye give place, that a seed may be planted in your heart, behold, if it be a true seed, or a good seed, if ye do not cast it out by your unbelief, that ye will resist the Spirit of the Lord, behold, it will begin to swell within your breasts; and when you feel these swelling motions, ye will begin to say within yourselves—It must needs be that this is a good seed, or that the word is good, for it beginneth to enlarge my soul; yea, it beginneth to enlighten my understanding, yea, it beginneth to be delicious to me (Alma 32:28).
Once I made a choice to believe, my faith began to grow. During church meetings, while praying, and while studying the scriptures, I began to feel in my heart a love for my Savior, Jesus Christ, and a greater understanding of His life and His atonement. As I kept the commandments, I felt a sense of peace, and I began to see the blessings that come from choosing good. The seed was good. Now I knew more: not just that I wanted to believe, but that a life of faith was a good life, and that God lived and loved me.
Faith: Nurture the Seed
Like a growing plant, faith must be nurtured and fed if it is to continue to grow. Like any good thing, faith sometimes requires sacrifice. I attended Church regularly, even on days when I was tired; I studied the scriptures and prayed daily, even when I was busy; when I succumbed to temptation, I fought to repent of my sins, holding fast to the help and succor offered by Jesus Christ. Alma put it this way:
And behold, as the tree beginneth to grow, ye will say: Let us nourish it with great care, that it may get root, that it may grow up, and bring forth fruit unto us. And now behold, if ye nourish it with much care it will get root, and grow up, and bring forth fruit (Alma 32:37).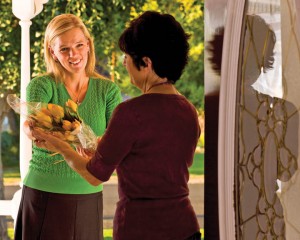 Faith: Feasting on the Fruit
As I continued to act in faith, my conviction and knowledge continued to grow. Miracles of healing, both large and small, occurred in my life. Answers to my prayers would come as the Holy Ghost spoke to my mind and my heart. From time to time, my Heavenly Father would direct me to help someone else in just the way they needed. I felt the love of Jesus Christ for me and for those around me. Life became ever richer and more rewarding the more I acted in faith.
My life today is blessed beyond measure because of the choice I made, long ago, to believe. My faith is no longer weak, and my knowledge is no longer meager. Instead, the accumulated experience of my life helps me to know now that God does indeed live, and He loves me. Keeping His commandments leads to happiness in this life, and joy throughout eternity. My Savior, Jesus Christ, lives. He has atoned for my sins, and will sustain me through every trial. My life without God would have been an empty shell of what it is today. I believed then because I took a leap of faith and chose to experiment upon the word. I believe now because I know that what I believe is true. My life of faith brings me great joy.
But if ye will nourish the word, yea, nourish the tree as it beginneth to grow, by your faith with great diligence, and with patience, looking forward to the fruit thereof, it shall take root; and behold it shall be a tree springing up unto everlasting life.

And because of your diligence and your faith and your patience with the word in nourishing it, that it may take root in you, behold, by and by ye shall pluck the fruit thereof, which is most precious, which is sweet above all that is sweet, and which is white above all that is white, yea, and pure above all that is pure; and ye shall feast upon this fruit even until ye are filled, that ye hunger not, neither shall ye thirst (Alma 32:41-42).
Additional Resources:
Gordon B. Hinckley, "Be Not Faithless"
Clayton M. Christensen, "Why I Belong and Why I Believe"
Nora Hess is a musician and mother of ten who lives in Lindon, Utah. She has degrees from Brigham Young University and the University of Utah.