Do Mormons worship Joseph Smith?
Personal Response by Richard Neitzel Holzapfel
Members of The Church of Jesus Christ of Latter-day Saints (Mormon Church) revere Biblical prophets and apostles such as Moses, Isaiah, Jeremiah, Peter, James, and Paul. They believe the Lord continues to call prophets and apostles in this modern day. Among those prophets God has chosen today is Joseph Smith (1805-44), the first modern prophet.
In addition to reverencing prophets and apostles, Mormons believe, like all Christians, that "there is one God, and one mediator between God and men, the man Christ Jesus" (1 Timothy 2:5). Therefore, Mormons truly and sincerely worship God, the Eternal Father, in the name of the Jesus Christ-God's unique Son. They worship no other man or women no matter who they are or what they have done.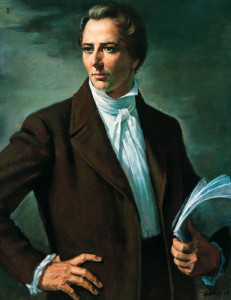 Although Latter-day Saints believe that Joseph Smith, like biblical prophets and apostles, was called of God to speak in the name of the Lord, they recognize that Joseph Smith was a mortal, capable of sin like all men and women. The revelations he received from the Lord challenged him to repent, but also promised him, like God promises all men and women, forgiveness that comes through and by the atoning blood of Jesus Christ. Joseph Smith himself stated, "The Savior has the words of eternal life nothing else can profit us" (Teachings of the Prophet Joseph Smith [Salt Lake City: Deseret Book, 1976], 364).
Jews, Christians and Muslim, hold ancient prophets in special places of honor in their individual traditions. Nevertheless, they seem to know about and study the lives and writings of some prophets and apostles, like Moses and Paul, more than others. In a similar situation, Latter-day Saints often know more about the life and teachings of Joseph Smith than many other prophets and apostles. This special place among the prophets that Joseph Smith holds may be best understood because Mormons believe he was called of God and anointed by Jesus Christ to open the final religious chapter in the history of the world-proceeding Jesus Christ's triumphal return to reign as "King of kings" and "Lord of lords" (Revelation 19:16). This unique role, like Moses, included seeing the Lord; leading His people in a great movement towards a promised land; establishing a holy temple (holy sanctuary) to worship Him; and preserving His words that are now revered as holy scripture.
Joseph Smith is a modern witness of Lord who testified, "And now, after the many testimonies which have been given of him, this is the testimony, last of all, which we give of him: That he lives! For we saw him, even on the right hand of God; and we heard the voice bearing record that he is the Only Begotten of the Father" (Doctrine and Covenants 76:22-23).
Tags: Add new tag, Joseph Smith, Mormons, prophets, worship
This entry was posted on Friday, April 25th, 2008 at 10:45 am and is filed under Array. You can follow any responses to this entry through the http://www.mormonchurch.com/90/do-mormons-worship-joseph-smith/feed feed. You can leave a response, or trackback from your own site.
Leave a Reply