Free Online Videos About Jesus Christ
On December 5,2011, The Church of Jesus Christ of Latter-day Saints, whose members are sometimes called Mormons, announced a new website devoted to free online videos about Jesus Christ. The first videos are now available and teach the Christmas story in the exact words of the King James Bible.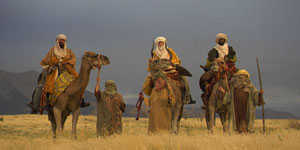 The project is the first of many films to be produced on a film set near Goshen, Utah. 830 acres have been turned into a replica of ancient Jerusalem and other New Testament locations. It is not a re-creation of the city of Jerusalem. It is a collection of settings that can be used and re-used for the needed scenes. Digital imaging will create some aspects of the city, such as the temple, that are not being built. Researchers went to Jerusalem, studied it, and photographed it. They also studied the scriptures to understand how things needed to look. The goal was to create as authentic a set as possible. Months of searching finally led them to a large piece of land that included sand dunes, desert, and even a river. The mountains in the background looked appropriately Biblical.
The set was designed to be highly efficient. Columns and windows are interchangeable so they can be altered to fit the time period needed, since future films may cover other scriptural times. Draining the pool of Bethesda, where Jesus healed a man who was lame, and covering it, allows them to use the same space to film the wedding at Cana.
The project will create thirty brief scenes from the New Testament to be used in classes, at church visitor's centers, and online. The initial project focuses on the life of Jesus Christ and of His apostles.
Currently on the site are videos about Mary learning from an angel that she is to become the mother of Jesus Christ, a scene of Mary and Elisabeth talking about their miracles, the journey of Mary and Joseph to Bethlehem, the shepherds coming to worship the baby, the presentation of Jesus at the temple, and the later arrival of the Wise Men, who did not arrive until Jesus was a toddler. A mobile app is available, and one for I-Phone is coming soon.
Mormons worship Jesus Christ as their Savior. The Book of Mormon, which the Mormons use along with the Bible, says, "And we talk of Christ, we rejoice in Christ, we preach of Christ, we prophesy of Christ, and we write according to our prophecies, that our children may know to what source they may look for a remission of their sins" (2 Ne. 25:26). Mormons teach that only through Jesus Christ can we be saved and receive the gift of eternal life.
Mormon beliefs teach that Jesus Christ was born the son of Mary, who was a virgin at the time of His birth, and of God. They do not claim any understanding of how the conception occurred, despite gossip to the contrary. They do believe it was done in a way that was respectful of Mary and that God, not the Holy Ghost, is the Father of Jesus Christ.
Mormon beliefs teach that Jesus Christ is the only Begotten Son of Jesus Christ and that He was baptized despite having no sin of which to repent. In the Garden of Gethsemane, Jesus Christ voluntarily took on Himself the sins of the world, a very personal and individual gift to all of us, one that brought powerful suffering and yet is often overlooked by the Christian world. He died on the cross and was resurrected in three days. Through this act, He broke the bonds of death.
Jesus' atoning sacrifice allowed all mankind to be resurrected, to live forever, and to repent of their sins. It also allowed them to activate the gift of eternal salvation if they chose to do so, by accepting Jesus Christ as their Savior, being baptized, and keeping the commandments. However, everyone receives the great gift of grace, since all are resurrected regardless of their acts. Eternal life, however, is a choice each person must make. The Bible tells us that just saying we believe in Jesus Christ is not enough; to be saved we must keep the commandments.
"Not every one that saith unto me, Lord, Lord, shall enter into the kingdom of heaven; but he that doeth the will of my Father which is in heaven" (Matthew 7:21)."
Mormons worship Jesus Christ in their weekly worship services, in their Mormon temples, and in their everyday lives. Little children are taught a song called, "I'm Trying to Be Like Jesus" and in their classes, they learn how Jesus lived and are taught to emulate Him. This continues into adulthood and is an eternal goal for Mormons.
The new website is part of a continuing effort of the Mormons to help the world come to know Jesus Christ.
Visit the website: The Life of Jesus Christ Bible Videos. There is no charge and you do not need to register to view them.
Watch a sample video:
Tags: Are Mormons Christian, Jesus Christ, Mormon Beliefs, Mormon videos
This entry was posted on Monday, December 5th, 2011 at 3:46 pm and is filed under Array. You can follow any responses to this entry through the http://www.mormonchurch.com/2173/free-online-videos-about-jesus-christ/feed feed. You can leave a response, or trackback from your own site.
Leave a Reply