If God Knows the Future, How Can We Have Free Will?
Mormons (a nickname for members of The Church of Jesus Christ of Latter-day Saints) believe that God knows everything and sees the future. Mormons also believe we have free will—the right to choose for ourselves. To some people, these seem to be contradictory ideas. If God knows everything that will happen, doesn't that mean it is all predestined and out of our control?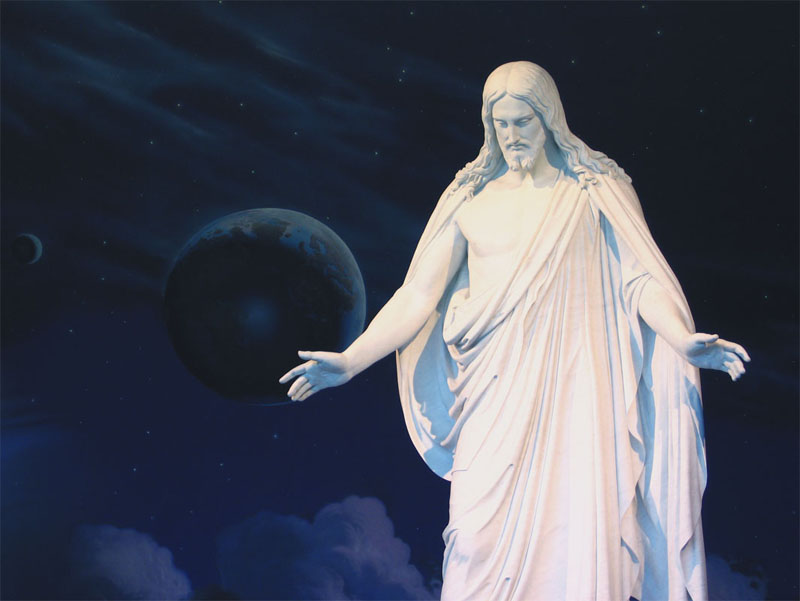 To understand how we can have free will and still have a God who knows the future, we need to have a clear understanding of our relationship with God. Let's begin with what Mormonism teaches about our life as God's children and then learn why He gave us free will.
Mormon beliefs tell us that God created our spirits and we lived with Him before our births. We didn't have bodies, but we were ourselves. We spent time with God, getting to know Him. He also got to know us and this is important to understanding the answer to the question.
When it was time to come to earth, God promised we would still have the free will we'd had since the moment our spirits were created. We could choose to do right or wrong, but we couldn't choose the consequences of our actions, either to ourselves or to others.
This tells us free will is very important to God. As much as He loves us, He knows we need to make our own choices, in the same way all parents must eventually let their children make choices, even if they are bad ones.
And yet, God sees the future. How does that affect our agency? There is an excellent discussion of this topic in an official Mormon lesson manual for college students. You can read the discussion here—scroll to the heading "Moses 1:6—All Things are Present in Me."
In this discussion we learn that God isn't bound by time in the same way we are. He can see the past, present, and future as easily and as clearly as we see the present moment—and with a perspective impossible for us to achieve.
Pick up a book of history or a biography. As you are reading this book, you know what choices the people in the biography or history made. You didn't cause them to happen. The participants in the events made choices of their own free will. You know what those choices were and what the consequences were because you read about them after they happened.
In this same way, God can actually see the future, as if he were visiting it or reading about it from a future perspective. He is not just guessing or predicting what will happen. But this also means He can see the results of the choices we make. He knows that if we make Choice A, Result A will happen. If we make Choice B, Result B will happen.
We are free, as we go through our lives, to make our own choices. God isn't sitting in Heaven controlling us like puppets. He knows what we are going to choose because He knows us so well from His time with us both before and during mortality. He also sees further down the road to know the results of our choices—but we are making the choices, not God. He is only seeing what we choose.
Because He is able to see what we are going to choose, He is able to make plans for us. If he sees we are going to make a mistake, but also sees that we will eventually realize we did make a mistake and decide to repent, He can plan to bring some good out of the errors we made. If He knows we are going to ask Him for advice before deciding, and that we are actually going to take the advice He gives, He can look ahead and decide what He should advise us to do.
James E. Talmadge is quoted in the discussion referenced above. He was, at the time of this quote, an apostle. He said:
"Many people have been led to regard this foreknowledge of God as a predestination whereby souls are designated for glory or condemnation even before their birth in the flesh, and irrespective of individual merit or demerit. This heretical doctrine seeks to rob Deity of mercy, justice, and love; it would make God appear capricious and selfish, directing and creating all things solely for His own glory, caring not for the suffering of His victims. How dreadful, how inconsistent is such an idea of God! It leads to the absurd conclusion that the mere knowledge of coming events must act as a determining influence in bringing about those occurrences. God's knowledge of spiritual and of human nature enables Him to conclude with certainty as to the actions of any of His children under given conditions; yet that knowledge is not of compelling force upon the creature" ( The Articles of Faith, 12th ed., [1924], 191).
This time, instead of reading a history book, let's imagine time travel were possible. Suppose you were able to travel to the future to see what your life will be like in twenty years. The life you see will be the result of all the choices you have made to that moment you are visiting. You'll also see how twenty years of decisions have affected others. When you return home, you can choose to follow the path you saw on your time travel journey or you can choose to avoid what you saw by making other decisions. The fact that you saw the future doesn't mean it has to happen. It means it would happen if you made those same choices throughout life, but of course, you would be free to do otherwise, even though your future had already been seen.
God knows you so well He knows what you are going to choose, but He is not doing the choosing. You are. He is simply seeing what you are going to choose so He can plan for you. When you use a GPS system to navigate a winding road, you can use the machine to see the road ahead. You didn't build the road or choose the path, but you know what is coming. God is doing the same—looking ahead to see what is coming, but not building the road. Although God knows everything, you are potentially able to prove Him wrong; however, he knows you so well, He knows when you will decide to go a different direction. However, the choice is always yours.
God is strongly involved in our lives. He has a plan for each of us, a plan we are free to choose or reject. Some things that happen to us are part of the plan, but other things just happen, the result of our choices or the choices of others, or even just chance. We are asked to pray to Him for guidance so that when there are crossroads, we can decide which ones to take. This gives us the best chance of navigating life successfully. Doing so doesn't guarantee a life without trials, because that is impossible, and keeps us from growing. It does promise that we will be in God's hands as we travel through life and that those things that happen won't interfere with God's plan for us. The things He needs to have happen to us will if we seek His help in our choices.
Having agency is a wonderful and powerful gift, one that comes with great responsibility, since our choices affect our own lives and the lives of others. However, it is reassuring to know God can see ahead and help us successfully make the choices we need to make—if we take the time to ask for help.
Tags: does God know the future, free will, If God knows the future how can we have free will, Mormon Beliefs
This entry was posted on Saturday, September 24th, 2011 at 12:10 pm and is filed under Array. You can follow any responses to this entry through the http://www.mormonchurch.com/2091/if-god-knows-the-future-how-can-we-have-free-will/feed feed. You can leave a response, or trackback from your own site.
Leave a Reply